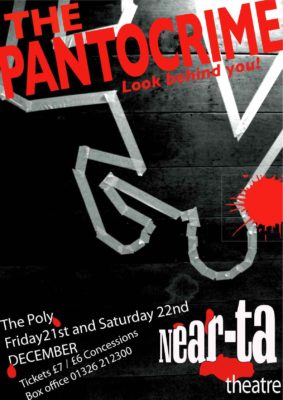 The Pantocrime (2007)
Tragedy! A murder in a show! But who can possibly solve the case? Near-ta Theatre employed top detective Dale Adequate in their Christmas show, The Pantocrime.
A theatre company's pantomime is ruined as a cast member is killed, and everyone involved with the show is a suspect. Whodunit? Well, that was for the audience and Dale to work out, as Near-ta Theatre offered an original take on the traditional British Christmas show. Heroes, heroines, villains, dames, and fairy godmothers were gathered there in a murder-mystery for all the family!
Written by Ciaran Clarke, and directed by Hannah Stephens and Daniel Richards, Near-ta Theatre offered a show full of Pantomime goodness, intrigue and some very different Christmas carols. Be prompt… Some body corpsed on stage…
Cast

Hannah Stephens
Daniel Richards
Emily Knuckey
Maeve Clarke
Sam Tomlinson
Will Tregidgo
Ruby Utting
Lamorna Rowe

Credits

Written by Ciaran Clarke
Directed by Hannah Stephens and Daniel Richards
Set – Seamus Carey and Steven Richards
Graphic Design – Georgia Gendall

Songs

Piano – Sam Tomlinson and Lamorna Rowe
Guitar – Sam Tomlinson and Daniel Richards